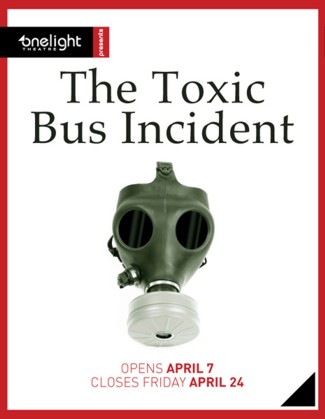 The Toxic Bus Incident
April 7–24, 2009 |
Neptune's Studio Theatre
---
Written by Greg MacArthur
Directed by Shahin Sayadi
Set and Costume design by D'Arcy Morris-Poultney
Lighting design by Mike Mader
Sound design by Jeremy Parker
Music/Composition by Dinuk Wijeratne
Stage Manager: Krisi Bruce
Cast: Pamela Halstead, John Dartt, Jason Daley, Sharon 
---
A picturesque Canadian city. A peaceful Saturday morning. A suburban woman gets on a bus. She notices a foreign man. Dark-skinned. He comes towards her…
"Are you having a happy day?" he says.
He reaches into his coat pocket. A foreign smell; a chemical hits her in the face. A burning sensation. The woman collapses. The foreign man flees.
With few witnesses to the actual event, we are left to decipher what really happened. Was it an actual terrorist attack? Mass hysteria? Racial paranoia?
The Toxic Bus Incident follows this woman and the effect this incident has on her life, and on the life of her family, as we witness her descent into psychosis and illness. Loosely based on an actual event, the show is an exploration of what happens when fear, paranoia and terror encroach upon a seemingly normal, liberal, middle-class family.
Onelight Theatre's production of The Toxic Bus Incident is the world premiere of a new play by Greg MacArthur. The play is directed by Onelight's Artistic Director, Shahin Sayadi and the production will feature original music by Dinuk Wijeratne, lighting design by Michael Mader, and set and costume design by D'Arcy Morris-Poultney. Performing in this premiere production are Pamela Halstead, John Dartt, Sharon Bernbaum, Margaret Legere, and Jason Daley.
The Toxic Bus Incident is the first installment in The Civilian Project, a pair of new works which examine the lived experiences of civilians near and far from the battlefield.
Take a ride on the Toxic Bus and see how the 21st century's "War on Terror" has affected the lives of civilians in our quiet, Canadian suburbs.
---
---