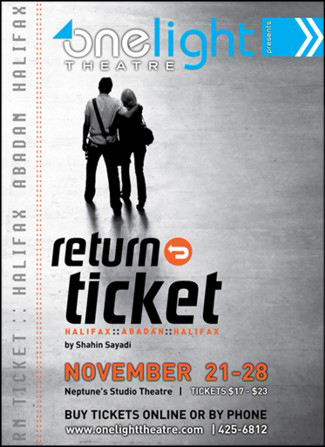 Return Ticket
November 21–28, 2009 | Various Times
Neptune's Studio Theatre
---
Written and Directed by Shahin Sayadi
Set and Costume design by D'Arcy Morris-Poultney
Lighting design by Michael Mader
Music/Composition by Dinuk Wijeratne
Stage Manager: Michael Mader
Cast: Theo Pitsiavas, Marty Burt, Bridget Bezanson
Imagine that you are at work, at school, in a coffee shop, at a
playground, going about your daily routine. Now imagine that
without warning bombs start raining down on your city. Within
hours troops are at the edge of your town. Within days your
city is under siege. Civilians have fled. Soldiers face down the
enemy in town squares. Bullet holes mark every building. Your
country is at war and downtown is the front line.
What happens when your front yard is a battleground? Your
child's school is a field hospital? The ice cream factory — a
temporary morgue? What happens to the civilians when a
simple trip to home to retrieve clothing can land you in a POW
camp for 9 years? War changes everything that is familiar to
you — the people, places and landscapes are forever
changed.
Return Ticket: Halifax-Abadan-Halifax traces one man's
journey as he explores the stories of survival of civilians
caught in a city under siege. It is a deeply personal story that
brings to life not only the past, but also the far-reaching effects
on people, families and communities of living in the shadow of
war.