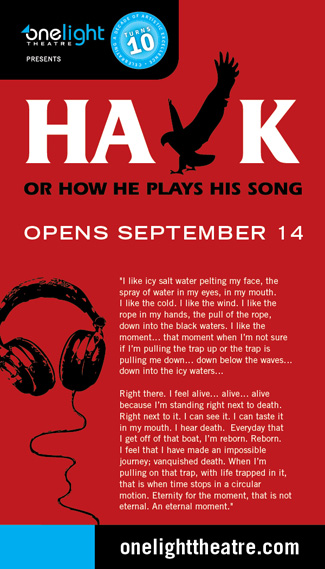 Hawk Or How He Plays His Song
September 2012 | Various Times

---
There are many lives to live and paths to take under the sky. We gather and separate, fight and love, live and die under the sky; the trees stand by and witness our human attempts at humanity.
Hawk, a young, adventurous, aspiring musician, stands in the cross-roads: does he follow his father for a life in the city, hanging out with his girlfriend? Or does he stay on his reserve, fishing lobster with his mother? Where will these paths lead him? What will be sacrificed along the way?
Take an intimate journey through a pivotal year in Hawk's life. Join Hawk under the sky and next to the tree; walk with him as he finds a path that reconciles his past, present and future.
This new production by Onelight Theatre was developed with the support of Royal Manitoba Theatre Centre, Playwrights' Workshop Montreal and Mermaid Theatre of Nova Scotia and with the technical support of Michael Mader, Jake Dambergs, Nick Bottomley and Shahin Sayadi. It is staged in a self-contained performance space, Mobilight, designed for touring to rural communities.
THE CAST
Daniel Knight
PJ Prudat
Monique Mojica
Gordon Patrick White
Richard Taylor
Sarah-Jean Jones
Stage Managers: Shani Hamilton Greenlaw and Heather Lewis
THE CREW
Written and Directed by: Shahin Sayadi
Lighting Design: Michael Mader
Design: Michael Mader and Shahin Sayadi
Construction: Deborah MacLean
Audio Video Design: Nicholas Bottomley
Technical Director: Michael Mader
Running Crew: Sarah Mansikka
Music Composition: Dinuk Wijeratne
Dramaturge: Yvette Nolan
Movement Director: Alexis Milligan
Vocal Coach: Cathy Elliot
Costume Designer: Kathryn MacLellan
Administration: Maggie Stewart and Kristi Anderson
Cultural Advisor: William Nevin
NOTES: WILLIAM NEVIN
For most people this is a play, but for us, this is reality. Our people live in communities that are right next to your cities and towns, right there, but they are invisible, unknown. People are struggling.
Basic life skills, like hunting, fishing, parenting, were taken away from our people by residential schooling. Non-Native ways of doing things are very different from our ways. People are doing their best to interact with the Canadian way of doing things, but this leads to division within our communities. Some people go the city, some stay on the reserve, some follow church teachings, some people follow traditional teachings. Our communities are struggling internally.
In Hawk, we have the story of two generations. The parents' generation who were told that education in Western ways would make them "good Natives." But this path meant that they have to forget everything that they know from Native culture because it won't make one penny. The "successful" Native is the one who succeeds in the Canadian system. But Hawk's mother sees that you can function in both sides equally if you respect both equally. You have to respect the traditions and teachings as much as the work and schooling of the mainstream. In the play, Hawk and his sister look to their parents and are finding their own ways to balance Native and non-Native ways as they grown into adults.
In Hawk, we also have Mitra, who comes from a culture that is neither Native or western. She is also looking for how to balance her culture and teachings with Canadian culture; she is pushing to have a voice. The story of Mitra and Hawk is the story of bringing two cultures together. Finding a place in her new homeland, balancing all of the cultures that are in her life.
For most people this is a play, but for us, this is reality. Hopefully, this play will be a starting point for people to better understand the choices and challenges that our younger generation is facing.
SHAHIN SAYADI: PLAYWRITE/DIRECTOR'S STATEMENT
In 2001, I Sundanced for the first time; I have Sundanced each July since then. My family is part of the Sundance family. I am not Mi'kmaq, I am Iranian; I came to Canada in 1986. As an immigrant, I have been challenged to balance my Iranian culture, traditions and identity with the mainstream Canadian culture and traditions. As a father, I have been further challenged to give my children the knowledge and experience to find their own paths, as they grow.
For me, living in Canada and being "Canadian" necessitated developing an understanding and respect for the people of this land and the cultures and traditions that are indigenous to this place. When my daughter asked "Why do we go to Sundance?" the answer was simple: we live in the land of the Mi'kmaq.
Hawk or How He Plays His Song tells a story that many people will recognize. The struggle to find your path, to take from your parents' successes and failures, from your teachers and friends and to balance the different traditions and cultures that make up your identity. We have told this story in the context of a Mi'kmaq family because we are in the land of the Mi'kmaq.
The development of Hawk has been a long process through which each element, the script, the set, the technology, the music, and the staging were imagined and re-imagined, worked and re-worked. As the play developed, I have gone back to William Nevin and my Sundance family to ensure that the play felt familiar to them. I am proud to welcome the Sundance family from all parts of the Maritimes and New England to see the debut of Hawk.
There have been a number of theatre artists, technical professionals and arts organizations, who have contributed their skills, vision, and time to the development of Hawk. People have come from all over Canada to participate in workshops, to develop music, to design the set and to wrestle with the technology that bring this story to the stage. I am grateful for the talent and efforts of all of the people who have contributed to the development of Hawk.
In this 10th anniversary year of Onelight Theatre and for our 10th original production, I am honoured to welcome you to a play that combines the experiences, talents, and vision of a truly diverse group of people. We are looking forward to the next decade of Onelight projects and productions.