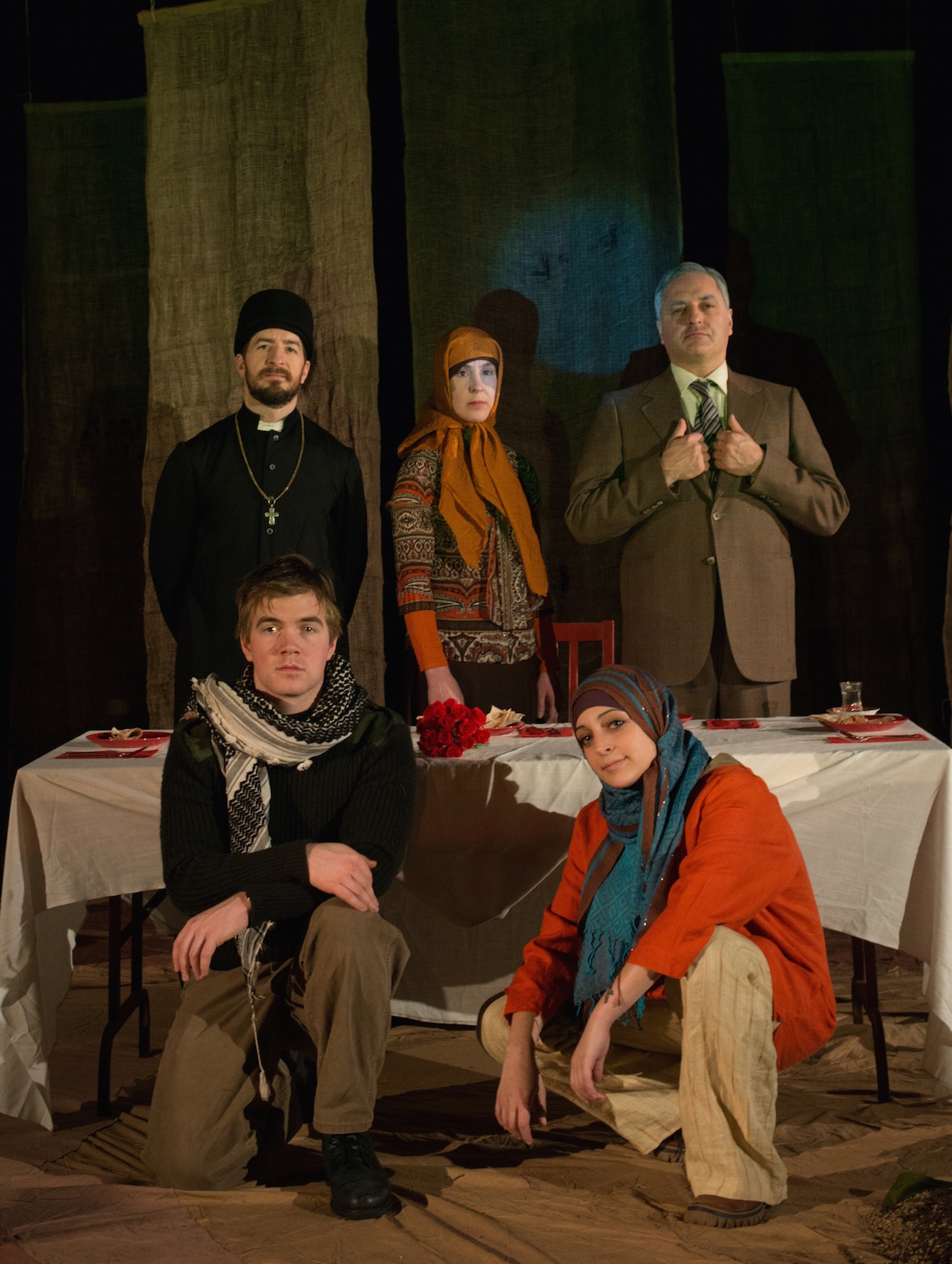 Chess with the Doomsday Machine
Available for Touring | 2015

---
Running time: 75 minutes, no intermission
Wars not contained, violence beyond borders, civilians in crossfire, Chess with the Doomsday Machine is a ceremonial meditation that draws you into the minds and bodies of civilians who would not flee their city under siege. You will walk with them, breathe with them, and share their hopes and fears.
Chess with the Doomsday Machine portrays a memorable journey of human behavior under duress, in a highly theatrical dance with a physicality that transcends language and will leave you feeling quietly captivated long after you have left the theatre.
Invest in an intimate, resonating, and demanding piece of theatre, set in the Iranian city of Abadan. The play examines the challenges faced by a young soldier as he balances his duty to defend his home with the need to protect those left behind after the attack. Developed as an international co-production with artists in Iran and Canada – the show is an original adaptation of Iranian author Habib Ahmadzadeh's novel of the same name.
With music composed by Kiya Tabassian and Constantinople, and presented in a blend of Farsi, English and human expressions, Chess with the Doomsday Machine is sure to provide a personalized experience for every audience member. More than a political piece, the show encompasses the beauty, depth and perseverance of humanity in the face of ever changing adversity.
Reviews:
"A beautiful, lyrical journey… intimate, disturbing and deeply affecting" – Chronicle Herald
"Truly awed… unlike any play I've seen… Brilliant. Breathtaking. Heartbreaking… pure magic" – The Coast
"Powerful, nothing else like it" – Media Co-op
"Doomsday is kindling from which our own thoughts can ignite meaning and emotion — while practicing empathy for situations most Canadians have never experienced" – The Present Presence
CAST | ROLE
Shahin Sayadi | Mohandess/Captain
Karen Bassett | Geety/Hossein
Garry Williams | Parveez/Father Albert
Benoit Whitehead Gravel | Moosa
Jessica Brown | Mahtaab/Soldier
PRODUCTION
Shahin Sayadi | Director/Designer/Playwright
Kelsey MacDonald | Stage Manager
Andrea Ritchie | Costume Designer/Set & Prop Construction
Rob Mader | Set & Prop Construction
Mike Mader | Lighting Designer/Technical Director/Set & Prop Construction
Nick Bottomley | Projection & Sound Designer
Ben Whitehead Gravel | Running Crew/Set & Prop Construction
Kiya Tabassian, Constantinople | Music
Shahin Sayadi, Habib Ahmadzadeh | Location Photography & Video